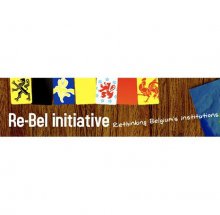 Belgium, a utopia for our times ?
University Foundation, Thursday 21 June 2018, 2-6pm
16th public event of the Re-Bel initiative
coordinated by Paul DE GRAUWE
A critical discussion of
Belgium. Une utopie pour notre temps (L' Académie en Poche, Bruxelles, juin 2018),
Belgium. Een utopie voor onze tijd (Polis, Antwerpen, juni 2018),
by Philippe VAN PARIJS.
Part I: Selective presentation of the various chapters
Bea CANTILLON (UA)
Estelle CANTILLON (ULB)
Paul DE GRAUWE (LSE)
Bruno DE WEVER (UGent)
François MANIQUET (UCLouvain)
Erik SCHOKKAERT (KU Leuven)
members of Re-Bel's core group
Part II: Critical comments
Edouard DELRUELLE (ULg)
Jean-Benoit PILET (ULB)
Herman VAN GOETHEM (UA)
Els WITTE (VUB)
Response
Philippe VAN PARIJS (UCLouvain & KU Leuven)